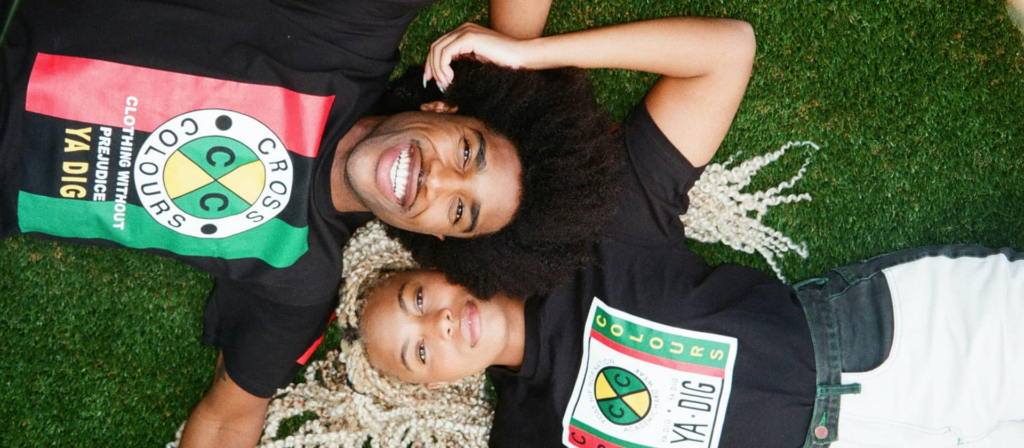 So, it can bring about timeless pieces and historical change when you find a way to meet the needs of your community. Also, it brings change when we amplify those demands to mainstream media with creative expression.
As result, this is what Carl Jones and Thomas Walker did. They saw the importance of what representation could bring to their communities. They use their skills to produce a fashion house for Black youth with the belief of producing "Clothing Without Prejudice."
Sp, as a brand that was birthed in the unjust political climate of Los Angeles during the late 80's and 90's, Cross Colours learned to withstand adversity while helping propel Black Culture to new heights.
Cross Colours
An L.A. Story of Black Sustainability in Fashion
The late '80s and early '90s were an era of turmoil for many inner-city African-American communities. So, it had been a time of inequitable Reagan-era economic policies, poverty, racial tensions, and police brutality. Also, it was an era of war on drugs and mass incarceration and civil unrest. As a result, in Los Angeles, the belligerent efforts to use control by the Los Angeles Police Department showed Black communities that officers were not held accountable for their abusive actions.
Moreover, there was no accountability that led to the acquittal of four LAPD officers responsible for the brutal beating of Rodney King in 1992. Also, followed by the death of 15-year-old Latasha Harlins by a Korean grocer. As a result, it sent angry protesters to the streets in masses, resulting in 5 days of unrest across several areas during the L.A. Riots.
At a time of such uncertainty for Black communities in Los Angeles, fashion was used as a tool to present and project publicly a sense of Black identity. 
Also, the style of inner-city youth in New York City had made its way onto the West Coast. There was emphasis on baggier fit, clinched waistlines and bright use of color and patterns. This fashion became a part of Black cultural currency. Also, it created a dialogue that would be recognized as urban streetwear. After that, the cinched waists and baggier fits became "fresh." Within its uprising, Hip-Hop and streetwear went on to become supreme forces behind mainstream American pop culture.
Coming from different backgrounds, Cross Colours founder and co-founder Carl Jones and Thomas Walker would work together to find a way of broadcasting political and social messages in a manner that would cater to Black youth and their urban fashion style.
Carl Jones studied at the Otis Parson's School of Design and Trade Technical College as he worked for various fashion enterprises before starting his own t-shirt line called Surf Fetish in Los Angeles. Thomas Walker attended Meridian Community College where he received his Associate of Arts degree then went on to get his Bachelors' degree in Fine Arts from Delta State University and Master's in Fine Arts from Louisiana Tech, before moving to Los Angeles and becoming a graphic designer at a screen-printing company owned by Carl Jones.
In 1989 Carl and Thomas launched Cross Colours in downtown Los Angeles. 
Their goal was to not only create a product made 'by Black people for Black people.' However, the goal was to apply positive messages to the clothing. It was a way to address the on-going challenges within the community.
Also, using color ways such as red, yellow, green, and black as cultural embraces for Afrocentrism. Also, the messages were infused onto the clothing as each color had its own meaning. Red was for the blood of the people; yellow for the sun; green for the earth and black for the people.
The brand's name and messages such as "Clothing Without Prejudice" targets addressing gang violence as it was prevalent at the time. They wanted it to be understood that they were not using any of the colors for representing specific gangs. However, they want people to mix the colors up as a demonstration of unity and education.
With the brand picking up steady pace, Jones and Walker debuted their clothing line at The Magic Show in 1991 generating $20 million dollars by the end of the trade show.
As the attention on Cross Colours grew, so did their influence on the fashion industry and pop culture. 
In 1990, Will Smith loved the color-blocked patterns and bright colors. As a result, it became a key part of his enthusiastic persona for The Fresh Prince of Bel-Air.' It's a the hit primetime television show.
With huge popularity and success, the next show to pick up the clothing line was 'In Living Color.' Moreover, the show had the likes of Jamie Foxx and even Jim Carrey guest starring on the show which helped raise the view of the brand.
During the time of the brand's success within television and film, its influence on hip-hop was on the rise. Also, as hip-hop was becoming the popular American culture. Along with this, rap artists from Dr. Dre, Tupac, Snoop Dogg, and Kriss Kross started wearing Cross Colours. Moreover, it was seen on TLC and Marky Mark better known as Mark Wahlberg were wearing Cross Colours.
So, Hip-Hop and street culture began to merge with American sports. As a result, it's seen in basketball giving way to rising stars Michael Jordan and Magic Johnson to showcase the brand in their style as well. Cross Colours was able to take streetwear to mainstream. Also, it was the case even though streetware is a niche market.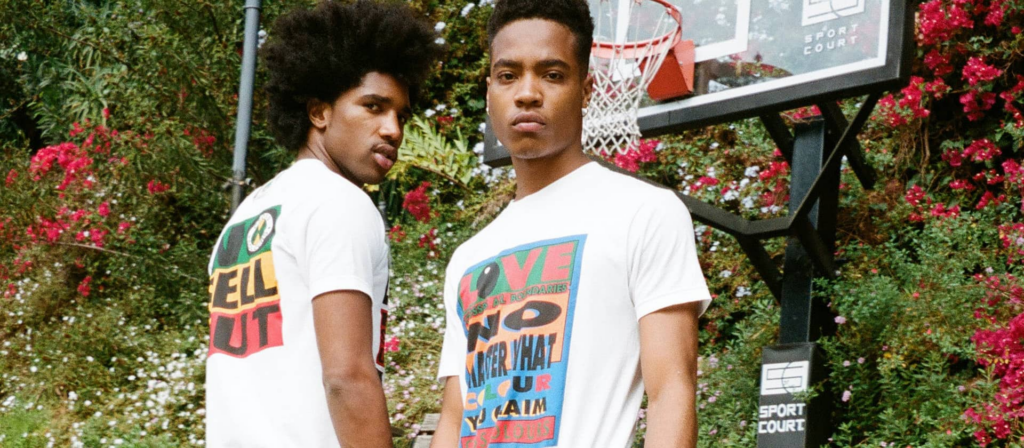 At their peak Cross Colours' biggest retailer was Merry-Go-Round, but it all came crashing when Merry-Go-Round went bankrupt in 1994. As Cross Colours could not keep up, the company had to close.
Decades later, Cross Colours made its long-awaited return in 2014 releasing replicas of its vintage favorites as well as new designs.
In keeping their promise to uplift their community along the way, Carl Jones and Thomas Walker partnered up with HBCU GameDay to introduce a series of initiatives focused on empowering students attending Historically Black Colleges and Universities across the United States. This partnership sees Cross Colours as the official clothing provider for HBCU GameDay and project-based mentorship.
Another community initiative the brand has is their Common Ground Mentorship Program. The program is based in various HBCU campuses with the aim to "spotlight the value of these institutions, and their students, while providing mentorship in various aspects of the fashion industry."
These collaborations and programs demonstrate the brand's continued commitment to sustainably empower future generations. Cross Colours has shown how a brand built on ethics and equality can leave behind an artistic and enriching legacy.
Nana Kyei-Baffour is a Fashion Communications major graduating from Iowa State University. She is a multifaceted woman constantly evolving, challenging herself and pushing the status quo. Through her work, she creates new, enriching discussions centered on Black storytelling within the fashion industry.