Leaders of Sustainable Fashion in West Africa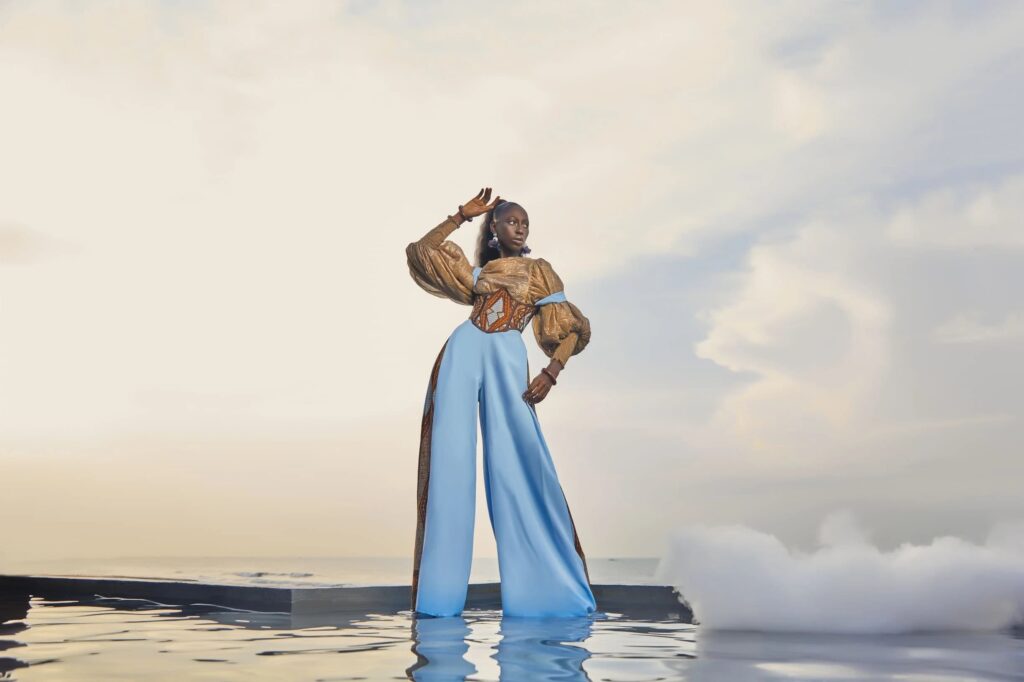 Sustainability allows fashion businesses to make decisions that regard the long-term effects of social, human and environmental impacts within their production. Also, it influences them to think about more factors than just instant profit and loss.
In West Africa, emerging fashion brands pride themselves on sustainable approaches. Moreover, when it comes to their materials, zero waste, design processes and more. So, here are 5 West African fashion brands leading the conversation in their region on sustainability within manufacturing.
Leaders of Sustainable Fashion
Orange Culture is a fashion brand based in Nigeria. Launched in 2011, Adebayo Oke- Lawal wanted to create a label that was more than a clothing line but rather a movement. So, it's based on intriguing silhouettes with an African touch for a creative class of men and women. Also, he wanted to show how anyone who was interested in telling a story with the way they present themselves can wear Orange Culture pieces.
Moreover, with all his clothing being manufactured in Lagos, Nigeria, Adebayo has a local tea. Also, they go through an intense training process while offering them the opportunity to participate in skill investment initiatives. In other words, they source the fabrics locally which they use to produce his garments. 
Moreover, some of his works include ethical sourcing of Aso-Oke from local Nigerian fabric makers. To clarify, they use homegrown cotton and linen because the company understands the importance of community. Also, a brand like Orange Culture understands the conscious effort required for helping prevent climate change. Especially with their zero-waste production. 
Talensi Atelier, formally known as Diva Delicious, is based in Accra, Ghana. The founder of the brand is Sandi Owusu. Also, the brand makes clothing and accessories using raw materials made in Ghana. Also. Moreover, focusing on design, dimension, and color combinations, Sandi brings along a touch of glam with street-smart trendiness. Her sources of inspiration come from a mix of fashion, art, and the cross-merging of modern and traditional culture.
Bead, sequin, and embroidery work are done by their local team to magnify the beauty of their purses. So, the purses specifically are made from organic grass. The grass is richly dyed straw, raffia, and bamboo is grown in the Northern part of Ghana. Also, Talensi Atelier, whose clothes are 100% handcrafted, uses recycled African fabrics that enhance the pieces with cross pattern intricate detailing. Moreover, knowing that she can make a positive change in the industry, Sandi understands how community is not just about the people but also the local resources at hand.
Christie Brown was founded in 2008 by Aisha Ayensu. Located in Accra, Ghana, Christie Brown is a luxury fashion brand for a global audience. Also, as a unique company that is a woman's apparel/accessories manufacturer and retailer, they are a part of a collective in Ghana. As a result, the collective has stepped up its collaboration across supply chains to expand resource productivity and improve material usage.
Also, when it comes to decreasing waste, Christie Brown continues to show how the zero-waste initiative is the way to go. In addition, Aisha Ayensu is part of the Ethical Fashion Initiative whose main goal is to "Create and build up social enterprises in emerging economies to connect international brands in the fashion and creative industry". So, as a brand in a dynamic position, Christie Brown is able to be a part of the overall sectors that shape the fashion industry while being able to pave a way forward to better sustainable practices.
Atafo is a multidisciplinary fashion brand. They cater to womenswear, menswear and bridal collections. Also, it is based in Nigeria where they create intricate tailor-made garments. Aside from this, they also create beautiful wedding gowns and recently ready-to-wear pieces.
So, Mai Atafo, who is the founder of the company, is also noted as a fashion tailor. He is known "to craft one-of-a-kind ensembles that become an extension of the wearer."
With his elegant team of atelier, they handcraft every piece leaving minimum room for mass production. Moreover, the fabrics they use are from local Nigerian makers that have homegrown fibers. Also, as a brand they believe sustainability can cause positive change by using techniques such as recycling and repurposing for a zero-waste advantage.
So, Tokyo James is a menswear brand based in the U.K. and Nigeria. Founded in 2015 by Iniye Tokyo James, his collections highlight the use of traditional tailoring. Howeover, it also breaks traditions by using out of the ordinary Pantone and textile options. Also, Tokyo James uses fabric from from the previous collection for his new collections. So, they up-cycle faux leather and make waistcoats and puffer jackets.
Therefore, they want to keep moving forward in their sustainability initiative. To do this, the brand plans to only produce made-to-order so they can decrease waste. The goal is to have zero waste by not mass producing and throwing away left over resources.
Nana Kyei-Baffour is a Fashion Communications major graduating from Iowa State University. She is a multifaceted woman constantly evolving, challenging herself and pushing the status quo. Through her work, she creates new, enriching discussions centered on Black storytelling within the fashion industry.